Presentation of the Shelter Research Unit
The number of natural disasters has doubled over the past two decades, destroying and affecting over 200 million people. This, combined with wars and other conflict-related emergencies, has left over 100 million people homeless and roughly 1.6 billion individuals living in temporary, non-sanitary shelters.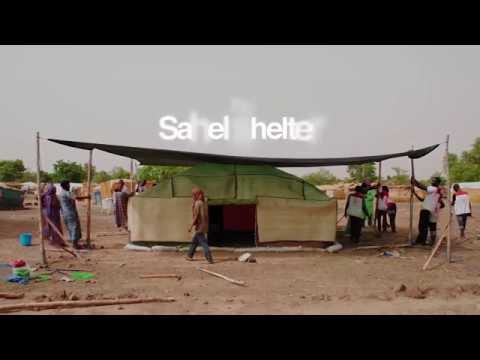 These staggering figures, combined with geographic, economic, and cultural differences regarding homeless people, are a huge challenge for those who design shelters. Designing a shelter is not just providing an emergency solution but involves rebuilding lives, helping individuals and families move on and settle into stable communities.
The International Federation of Red Cross and Red Crescent Societies is the world's largest supplier of emergency shelters. Although this mission started in the 19th century, as far as the shipment of the shelters is concerned, the Federation's first major operation took place in 1949 during the Palestinian refugee crisis.
In 2009, the Benelux Red Crosses (Luxembourg Red Cross, Belgian Red Cross – Flanders, Belgian Red Cross — Francophone community, and the Netherlands Red Cross) decided to set up a Shelter Research Unit (SRU) in order to support the Federation in its role of shelter provider in times of natural disasters. The SRU provides technical support to the Movement and to any other organisations providing shelter to those affected by disasters.
For more information : www.ifrc.org/shelter.
Download below the "Shelter Research Unit" flyer :
Flyer Shelter Research Unit (EN)
Support
The SRU's acti
ons are made possible through the financing and support from a large number of organisations who share its interests and concerns regarding emergency shelters.
From its start in 2010, the SRU's work has been accomplished thanks to financing by ECHO (European Community for Humanitarian Aid and Protection). The ECHO grant has enabled the SRU to increase its collaboration with Benelux universities for research purposes.
The SRU is very grateful to the Veuve Emile Metz-Tesch, Luxembourg foundation for its relentless support, especially the recent Shelter Curriculum.
The SRU is supported by the Fonds de Développement et de Coopération du Gouvernement Luxembourgeois, which enables the continuity of its work.
The SRU is equally grateful to Progecad for the design of its cutting-edge software.
The European Community for Humanitarian Aid and Protection provides financial aid to victims of natural disasters and conflicts outside the European Union. The help is allocated impartially, directly to the people in need regardless of race, ethnicity, religion, gender, age, nationality, or political opinion.
Photo: Lynsey Addario/VII Photo
Dagahaley camp in Dadaab after fleeing a prolonged drought in Somalia, August 20, 2011.
---